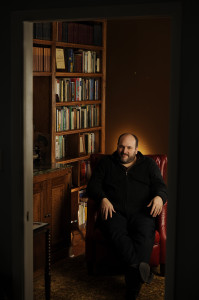 Last week, the Dramatists Guild distributed electronic ballots for this year's Guild Council election. Paper ballots are on their way as well, if they haven't already arrived. (My official ballot statement is below, if you're interested.) I'm very proud to have added my own name to the list of candidates this year, and I hope you'll support me.
In the last generation or so, we've all begun a radical transformation of the very idea of what it means to be a playwright. Even the simplest facts have changed: you don't have to live in NY any more to write for the stage; in fact, more playwrights live outside the city that inside it. We no longer want our playwrights to be mostly white and male (and straight, and cisgender, and so on); we want gender parity and inclusion, and we want it now. We don't all want to work in isolation any more (though some of us still do); we like joining collaboratives and devising ensembles and partnering with other kinds of generative artists and cozying up to dramaturgs. We recognize the technological potential of the 21st century as an asset, rather than as competition.
Isn't it all thrilling? It is for me! I know that for some people all this change is terrifying: a force to be resisted, but to my mind it's change we can (must?) live with. And that's why I'm hoping to join the Guild Council: to have a voice in the conversation about how our venerable institution adapts and evolves.
Will you help me help our profession? When you get your ballot, if you haven't already, vote for me; if you've already voted, share this blog post; and when I get elected, help me make sure to stay connected to the broader playwriting community in all its variations, old and new, so that I serve playwrights well.
————————————-
OFFICIAL BALLOT STATEMENT
I'm running for Guild Council as a long-time advocate for my fellow playwrights making theater in the digitally-networked 21st century.
Nationally, I've devoted my advocacy work to helping dramatists engage with technology. My primary focus has been on the New Play Exchange: the world's largest database of new scripts. The NPX (a project of the National New Play Network) uses search-and-filter tools, crowd-sourced recommendations, and an opportunities module to connect producers and playwrights. It's an attempt to replace the broken submissions model with a neutral, more inclusive platform. As Project Director, my intent is to change some of the fundamental (and imbalanced) facts of life for dramatists. I've also  spoken on the intersection between theater and technology at the Dramatists Guild National Conference, TCG, CityWrights, TEDx, South by Southwest, APASO, and the LMDA Conference, and I've written about the subject on HowlRound, 2am Theatre, and on my own blog, www.suilebhan.com. In addition, to make social media more accessible for dramatists, I built the most comprehensive list of playwrights available on Twitter via the @IFollowPWs account.
My advocacy work began, however, at the local level. I've been serving as the Guild's Regional Rep for DC—an important center of new play production—for several years. I've conducted an annual demographic analysis of the plays that appear on DC's stages, which has proven to be a useful way to inspire change with regard to diversity and gender parity. I planned a day-long regional mini-conference at the Kennedy Center. I created a ticket discount program for Guild members to make play-going more accessible. I held two "speed-dating" events to connect playwrights with directors, and I convened happy hours that helped dramatists get to know one another. I even created a DC-Area Playwrights group on Facebook to keep those conversations going virtually. The core of my local effort, however, has been the founding of The Welders, a DC-based playwrights collective. We have one more production to go before we hand the entire organization—website, donor list, logo, and checking account—to a new generation of artists. We're a 13P without the implosion; we're going to pass the torch instead, and the playwrights we're giving the company to will do the same as well, and so on. We've created a lasting platform that puts playwrights in command of their own fates.
Of course, my work as an artist is also important to understanding who I am. I'm the author of The Butcher, Reals, Abstract Nude, The Constellation, Let X, The Faithkiller, Cracked, and Transmission. My work has been commissioned, produced, and developed by Centerstage, Ensemble Studio Theatre, the National New Play Network, Gulfshore Playhouse, New Theatre, Forum Theatre, Theater J, Theater Alliance, and the Source Theater Festival, among others. But it's my career as an advocate, I believe, that makes me deserve—and ask for—your support in the Guild Council election. I want to keep making a difference at the national level, and I want to lend my perspective to an institution I cherish.