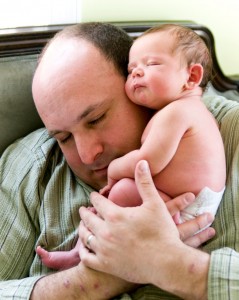 I spent most of my life believing with full sincerity—and what I thought was total self-awareness—that I would never become a father.
In the early years of my adulthood, when I was teaching young students to write, I could often be heard saying that my time in the classroom working with young people was more than enough. Later, after I'd stopped teaching, I became Uncle G to my brother's three children, and I thought: that'll do quite nicely, thank you. And for some time, it did.
But then, at 36 years old, I had the great good fortune to be at the hospital when a very old and very dear friend emerged from the delivery room. "It's a boy," he announced, with more newness and wonder and terror and transformation than I ever thought three words could express. In his eyes I saw what felt like a universe of feelings and ideas… and I was instantly overcome with the desire to enter that universe myself.
I denied it for several years: I was not, perhaps, quite ready to accept so sudden and sharp a revision to my own plans for my life. But eventually I surrendered to the truth, and three years ago today I was completely overtaken by Porter Karl Suilebhan: my complicated but total joy.
On the day he was born, I became a father… but in some sense, I am always becoming a father anew every day. The challenges I face in caring for him grow continually more complex and demanding. In the first days and weeks of his life, we struggled mightily, like all parents, to parse his cries, learning which meant the need for food and which meant exhaustion… but that task seems incredibly simple now in retrospect, having long since had to do everything from teaching Porter how to dress himself to explaining the nature of death after the loss of our cat Helen.
Becoming a father has taught me things I don't think I could have learned from any other experience. About myself, about my own childhood, about my parents, about adulthood, about leadership. These are new lessons for me: still a bit ineffable, but real nonetheless.
(I'm not sure whether these are lessons one can learn without becoming a parent. Some have rebuked me for saying that; perhaps I'm wrong. I would counter that I think there are also probably lessons one can't learn without, say, completing some great feat of physical exertion like climbing Kilimanjaro… or from living through tremendous tragedy… or from years of meditation… or from a thousand different other human achievements. Parents aren't superior to non-parents, in other words, at least not to me; we just earn a different merit badge.)
For the first couple of years of Porter's life, his presence affected my work as a writer in ways I am sure I will continue unpacking for a long time. Lately, though, I've begun to notice more subtle influences on the rest of my theatrical career, as a devising artist, performer, collaborator, and blogger. And it's troubling me.
I've begun to see the whole theatrical world through the lens of parenthood, whether I want to or not… and I know that's neither fair nor accurate. I have less tolerance for melodrama than ever before. I feel alienated from my fellow practitioners, whose schedules for rehearsing and devising and meeting are often completely out of sync with the demands of parenthood. I'm lonesome at times; in my worst moments, I feel like nobody else (in the theater) understands me or hears me. And I'm painfully, constantly aware of all my shortcomings; I have a sense about my work as an artist and advocate that I'm barely meeting every challenge, if not sometimes falling short… which is exactly how I feel about raising my son more often than I'd like to admit.
I'm really a mess sometimes!
(I keep it a secret, but it's true.)
And yet… I own that I chose to be a parent. Nobody forced becoming a father on me. In addition, I am also well aware that (particularly within the theatrical community) I'm privileged to be ABLE to be a parent. The economic and social constraints of art-making are real and hard. Not everyone who wants to be a parent can be. And my heart goes out to those whose dreams are—temporarily, I hope—deferred.
And the truth is that for all of its difficulties, parenthood is still (forgive the hackneyed phrasing) the single greatest thing I've ever done or (I expect) will do. The transformations I'm experiencing (and still trying to figure my way through) will in time come to seem smaller and less important: I have faith in that. I'll get a handle on them, or they'll get a handle on me, and I'll become a new person.
And in the meantime, I take great consolation from the small miracles of becoming a father: the moment I finally figure out how to whisper my son into eating green beans; his unasked-for kiss when I drop him off at day care; our daily morning hour of Lego and Play-Doh and making stuff and laughing together. Together, they more than make up for the pains of the rough unfolding of the new me I've been experiencing of late. In fact, they're everything I ever wanted. I just SO glad I finally figured out I wanted them!
—————-
Lots of traffic to this post today, for which I am VERY grateful. You have no idea how the feeling of so many people streaming into this post can affect this playwright's feelings of isolation.
While I'm adding this update, I also wanted to take a moment to acknowledge the beautiful photography of my friend Teresa Castracane, whose photograph of me and and my son graces this blog post. She's the best!